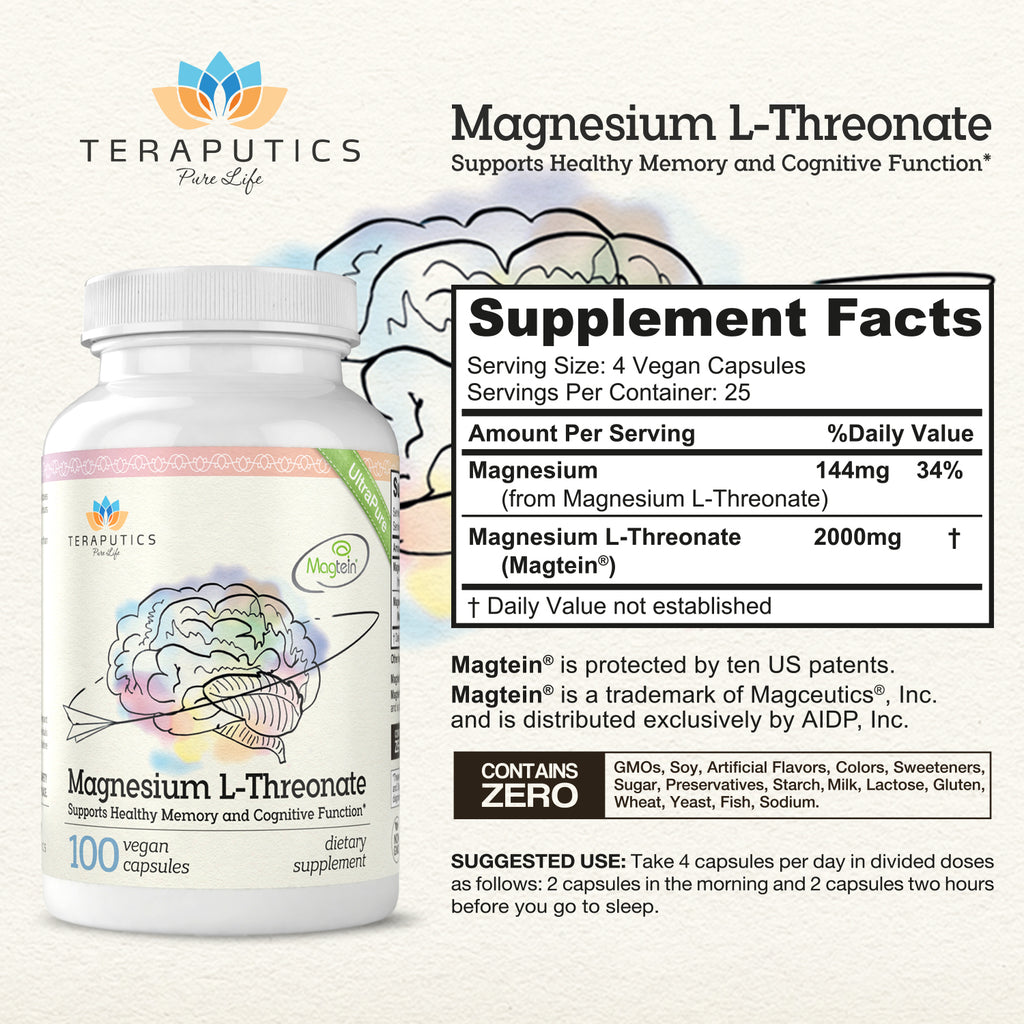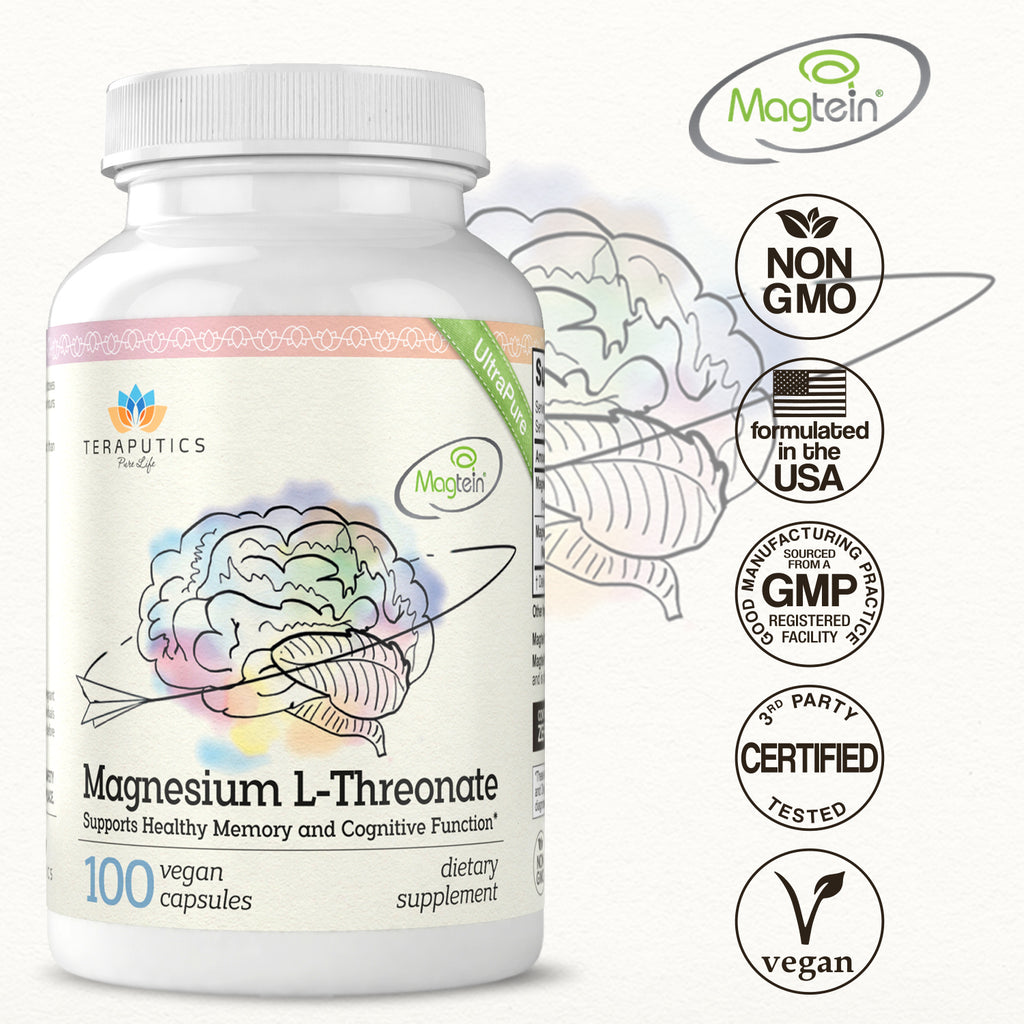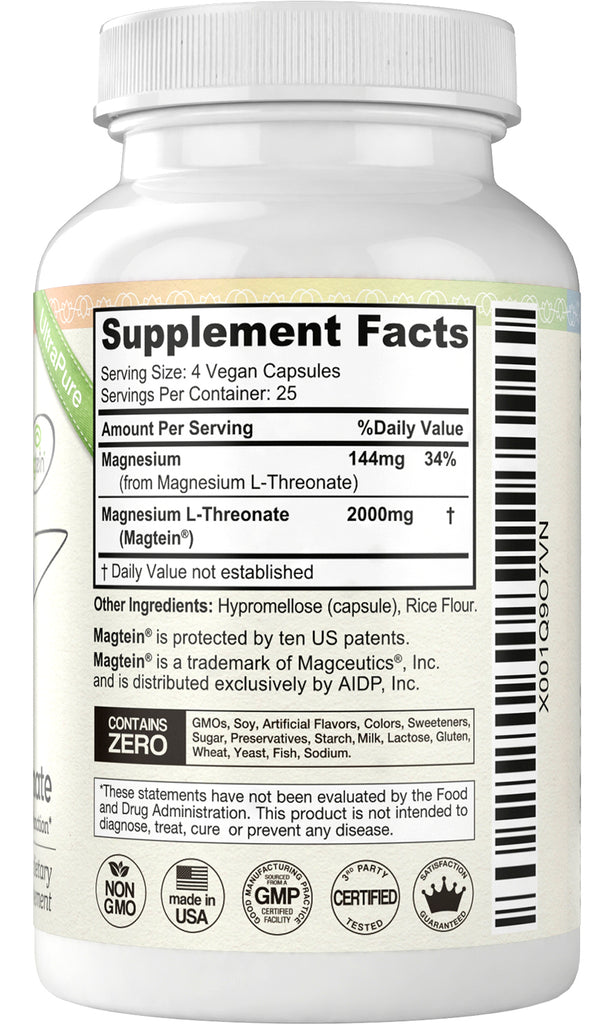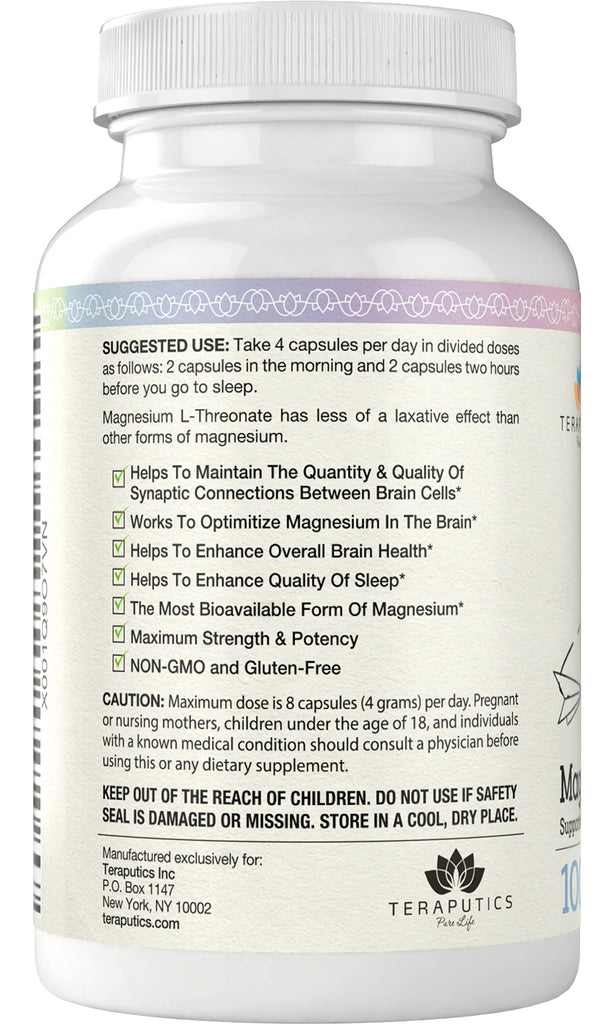 $27.95
$0.00
Magnesium L Threonate (Magtein) 100 Vegan Capsules
#1 MAGNESIUM L THREONATE SUPPLEMENT - The formula you loved is finally back! Thousands of customers agree that our magnesium threonate supplement is the most effective one. Teraputics is known as THE leading brand of magnesium formulas. This is because the only thing we care about is the quality and potency of our ingredients. Many of our customers have great things to say!
ULTRA PURE FORMULA - No additives, No preservatives, No artificial sweeteners, No Fillers, No GMOs and Gluten Free. Recent research has demonstrated that Magnesium is critical for normal brain health and normal cognitive function by maintaining the density and stability of neuronal synapses. Research has showed that Magnesium L-Threonate improved recall, slowed age-related memory decline, and helped create new neural pathways*
MOST BIOAVAILABLE FORM OF MAGNESIUM - With any supplement, it's essential to choose a form that will absorb into your body AND penetrate key tissues. What's so special about this magnesium l-threonate supplement is that research has shown it does both. In fact, it's the only magnesium vitamin that's been shown to effectively raise concentrations of magnesium in the brain*
ONLY THE BEST FROM TERAPUTICS - This product is perfectly formulated in FDA-inspected, GMP compliant facilities, subjected to stringent third party purity testing, and made right here in the USA. Our Magnesium L Threonate is UltraPure and of the highest quality making it a preferred alternative to other products that carry undesired side effects
100% MONEY BACK GUARANTEE - If for any reason you are not satisfied with this formula you can get a full refund with no questions asked. Our customers MUST be satisfied. Also, with every Teraputics purchase our customers gain access to our team of highly trained service professionals available to help with questions about any of our health products
Take 4 capsules per day in divided doses as follows: 2 capsules in the morning and 2 capsules two hours before you go to sleep.
Shipping in the United States: Absolutely free!

No international shipping.
Excellent
I have been taking Magnesium for a long time but decided to try it with Threonate. Searching for products available I chose this as it matched other requirements and the product is excellent. Help me to sleep and has other benefits beyond my expectations.
To Early To Tell
We bought this Magnesium L Threonate (Magtein) 100 Vegan Capsules because it is a high quality product. It is easy to swallow, it came perfectly packaged. It apparently takes 12 weeks of 2x a day for one to see benefits. We are on week 8. No complaints and we are hopeful it provides all the benefits of Magnesium L Theronate.
Agree the best one!
Taking this twice a day my brain fog has finally cleared up. I ran out and while waiting for another bottle I used another brand. Not nearly the same results. I find I can focus all day, and my brain is really calm and clear. So thrilled with this.
Magnesium L Threonate
Love this product! I've been taking it for 2+ months now and notice a difference in my mental energy levels throughout the day, along with high quality sleep. I think I'll need to take it longer to notice the effects on memory & cognitive function.