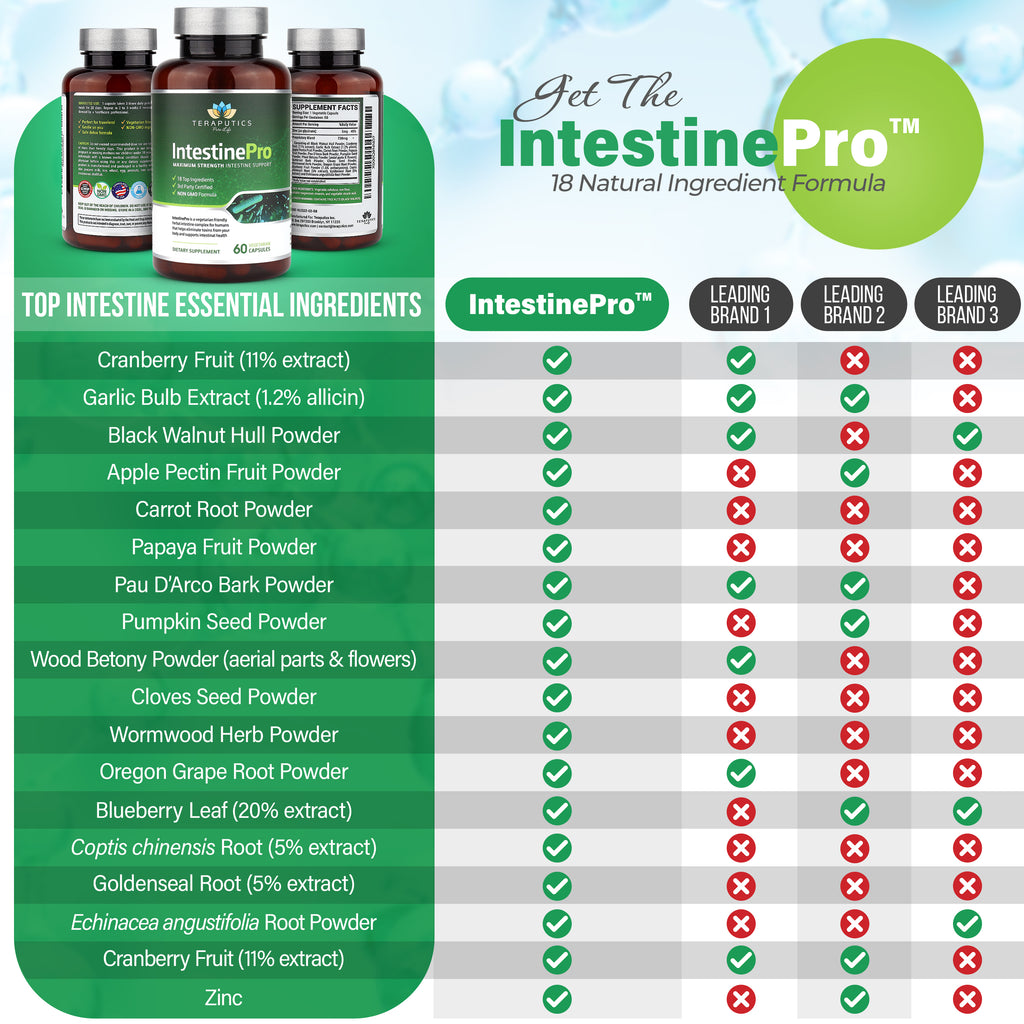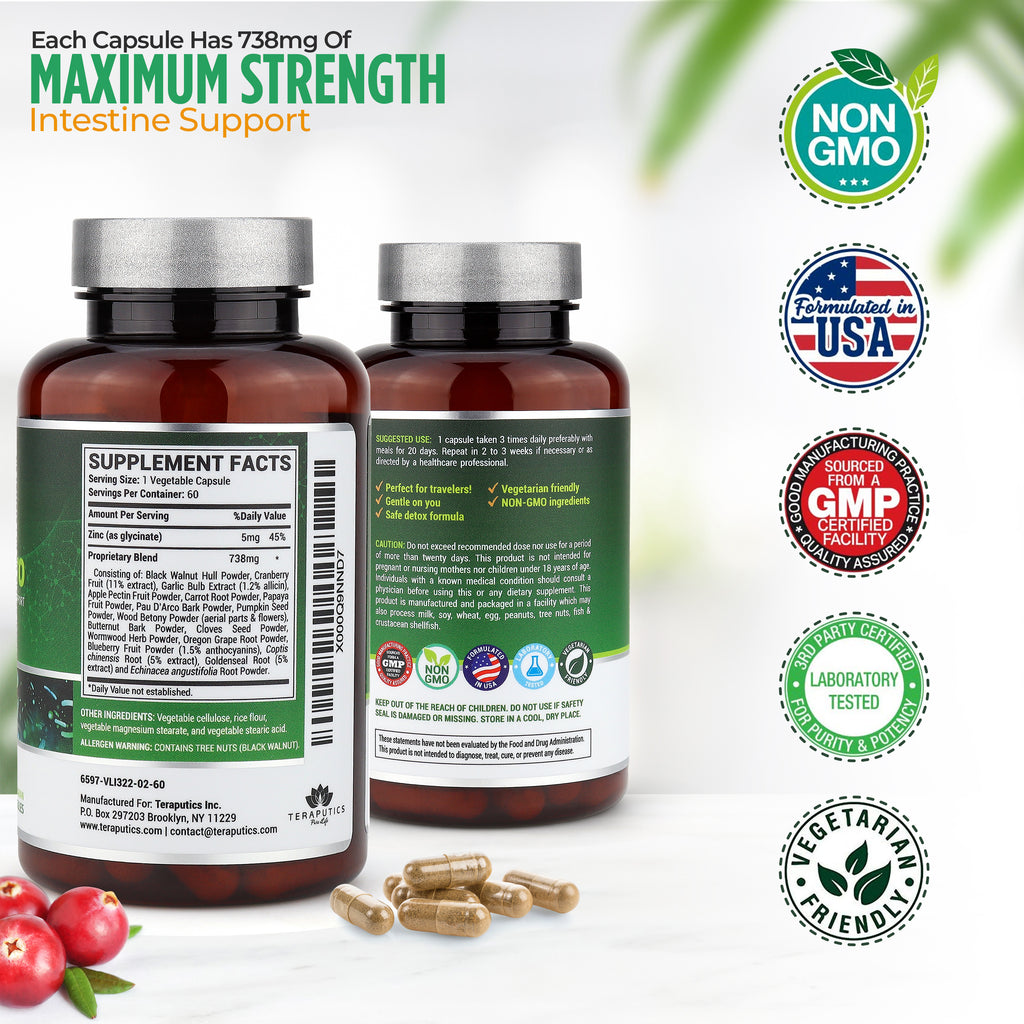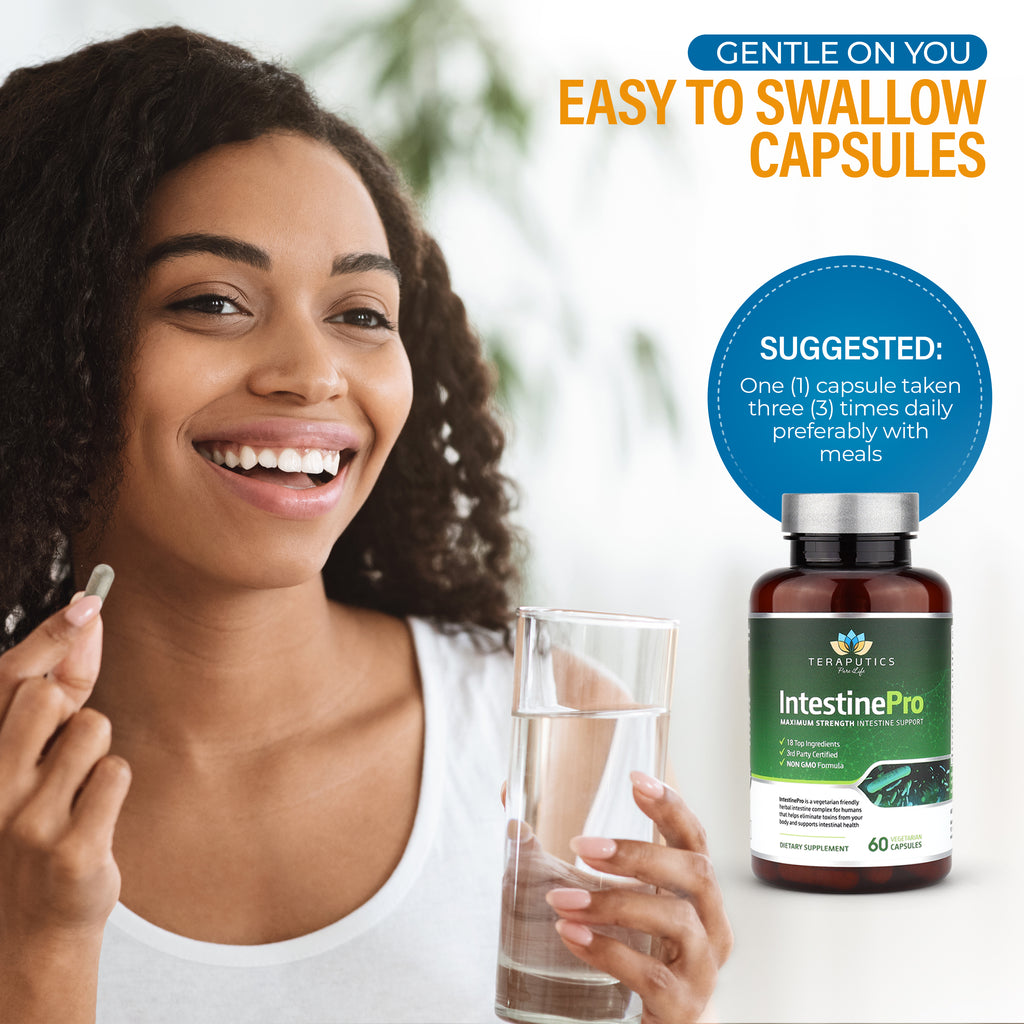 $24.95
$0.00
IntestinePro Intestine Support for Humans
MAXIMUM STRENGTH WHILE GENTLE ON YOU: Taking 1 capsule of IntestinePro with meals 3 times daily allows our intestinal movement formula to deliver optimal intestinal cleanse results. While supporting your intestinal health with our herbal black walnut wormwood complex take each capsule WITH food to help avoid burping, headaches, & an upset stomach.
18 PURE ALL NATURAL INGREDIENTS: We only use non-GMO, natural ingredients in all our formulations. Includes Garlic Blub Extract, Blueberry Leaf, Coptis chinensis Root, Goldenseal Root, Zinc, Apple Pectin Fruit, Carrot Root, Papaya Fruit, Pau D'Arco Bark, Pumpkin Seed, Wood Betony, Butternut Bark, Cloves Seed, Oregon Grape Root, Echinacea angustifolia Root, black walnut, & wormwood herb powders.
EXTRAORDINARY QUALITY STANDARDS: Manufactured & formulated right here in the USA each 1 of our black walnut wormwood capsules is produced in an FDA registered state-of-the-art facility. To ensure purity & potency every bottle is subjected to rigorous testing by 3rd party labs.
IntestinePro PROMISE: We stand by our products & promise a no questions asked refund or replacement if you experience any issues. Contact us through Amazon for quick & easy help. 100% happy & healthy customers is what we strive for at Teraputics!
SAFETY INFORMATION: Please do not take this product on an empty stomach. Some customers experience these symptoms when taking the product on an empty stomach: burping, headaches, upset stomach. We recommend drinking a few extra glasses of water everyday while taking this product. Get plenty of rest. Stay away from processed food, raw fish, sugar, and alcohol while taking this product. If you experience any adverse reactions please refer to these instructions and make sure you followed them.
ALLERGEN WARNING: IntestinePro is manufactured & packaged in a facility which may also process milk, soy, wheat, egg, peanuts, tree nuts, fish & crustacean shellfish. IntestinePro is not intended for pregnant or nursing mothers, children under 18 years of age, & individuals with a known medical condition should consult a physician before using this or any dietary supplement.
Shipping in the United States: Absolutely free!
International shipping is available! Just add to cart, go to checkout, and you can see an estimate for how much it will cost.